Monthly Archives:
March 2013
Why should we focus on reducing our stress levels? Feeling overwhelmed physically or emotionally on a regular basis has been proven in medical research to lead to high blood pressure, regular headaches, depression, anxiety, and weakens our immune system. Besides, it simply doesn't feel good when our stress levels are too high!
While most people think that you have to be still and relax to combat stress, mental health professionals recommend that getting active is also an effective way to reduce stress. Stress feels like "pent up" energy and when we tire ourselves out physically, we are actually blowing off some of that energy and are more able to relax and our sleep improves. Here in Central Florida, we are lucky to have amazing weather most of the year and can take advantage of the many health benefits of a variety of outdoor activities. Being outside and getting some exercise are two things that reduce our experience of stress. We have many picturesque parks and nature trails in Central Florida. A great way to clear your mind is to take a walk or jump on a bike and hit the West Orange Trail, Cady Way, or the Seminole Wekiva Trail. If you work in downtown Orlando, talk a walk around Lake Eola during lunch or after work. Visit many of our local springs and rivers (like Wekiva Springs State Park, Kelly Park, or Blue Springs) for canoeing, kayaking, or swimming.
People from around the world visit Central Florida for our theme parks (Walt Disney World, Sea World, Universal Studios, Legoland Florida) and spending the day walking around the parks is a great way to take a break from our busy lives and enjoy the company of our family and friends. Even if you don't have passes to any of the amusement parks, you can walk around Downtown Disney or Universal Orlando's Citywalk and enjoy dinner, dancing, and live music.
Making time on a regular basis to break away from our busy lives to enjoy the outdoors and get our blood pumping is a very effective way to keep our stress levels at a manageable level. If you are feeling overwhelmed with stress and want to learn more ways to feel relaxed and in control, contact Dana Nolan at Healthy Living Counseling for a free brief telephone consultation to discuss ways to better manage stress in your life!
The offices of Counselor, Dana Nolan L.M.H.C. are located in Altamonte Springs located right off of Interstate 4, which is a just a short drive from Orlando.  If you are seeking counseling services for depression, anxiety, stress, grief or loss, phobias, Post Traumatic Stress Disorder, Eye Movement Desensitization and Reprocessing, insomnia, couples counseling, marriage counseling, parenting, weight loss, or are adjusting to a serious illness such as cancer, heart disease, chronic pain, HIV/AIDS, please do not hesitate to contact Healthy Living Counseling for a free 5 minute phone consultation to get yourself on the right track for healthier living.
Making a decision to get counseling can be a difficult one.  Sometimes making that first phone call can be the hardest part, but also the right start.  Our Licensed Mental Health Counselor can listen to you and answer your initial questions during the free 5 minute consultation.  It is important to not only find a qualified and professional therapist, but also to find a good therapist whom you are comfortable with talking to.  At Healthy Living Counseling, we want you to have an opportunity to speak with our counselor prior to your first actual appointment, so please don't hesitate in taking advantage of our phone consultation.  Thank you, we look forward to your call.
This is a common question and an important one. Sugar, in its most simplest form, glucose does feed cancer cells just as it does all cells, healthy or not. It is the fuel needed for our body. To stop eating all foods containing sugar would not only be impractical ( as most foods are broken down in the body to glucose) but would also limit this fuel needed to power our healthy cells, including our brain.

When we eat food high in simple sugars, our body releases insulin, a growth hormone that takes care of the excess glucose in our body. It is believed that excess insulin may promote the growth of cancer cells and therefore our goal is to stabilize our glucose levels that will in turn, stabilize our insulin levels. How do we do this?

Essentially, we want to follow a diabetic diet. Eat small, frequent meals and snacks every 3 hours or so and avoid excess simple, processed sugars such as sodas, candy, cookies and cakes. We also want to eat more complex carbohydrates, i.e. whole grains. A meal containing protein, fat and/or fiber will help to slow down sugar absorption resulting in a slow rise in blood glucose levels and therefore a slow rise in insulin levels.
For more information or to clarify anything in this article, don't hesitate to contact your Healthy Living Dietitian, Tejal Parekh, MS, RD/LDN.  Tejal provides services related to healthy eating for Cancer Patients, as well as, for people with heart disease, and other serious illnesses.
Libby's Legacy Breast Cancer Foundation was formed in 2007.  Libby's is a non-profit organization that provides free and low cost mammograms and follow up breast health services to under-served and uninsured women in the Central Florida Community.  Every year since 2007, Libby's Legacy has coordinated a scooter ride which traverses throughout Orlando, known as Scooters 4 Hooters.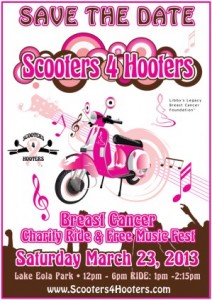 The event has nearly tripled in rider/participants and attendees since it first began. This event is held this year in downtown Orlando at Lake Eola Park, on Saturday March 23, 2013, from 12-6pm.  If you are interested in riding your scooter in this event, please visit Scooters 4 Hooters website or just come out and enjoy the free music fest and help support breast cancer.